Now available at StarMicroInc.

PNY GeForce GTX 970 4GB is now available at the lowest price on StarMicroInc. store for $299 only.
BUY HERE!.
Following is a quick introduction to the product.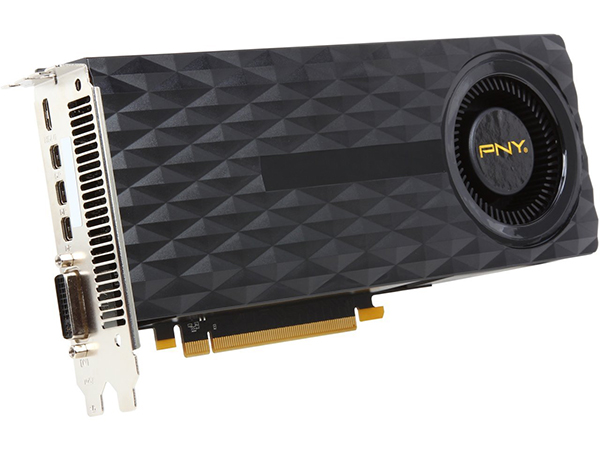 PNY GeForce GTX 970 4GB XLR8 Introduction
As it is said in the past and probably will do in the future – assuming NVIDIA sticks to its labeling nomenclature – the NVIDIA '70 models are usually the most interesting in NVIDIA's lineup. We are not alone in this option as no matter what generation, the '70s are what many consumers gravitate too. The reason they do this is simple: the 70s are usually the perfect blend of performance vs price than you can find in 'team Red' line-up.
This is because while the even cheaper x60's make major performance sacrifices in-order to reach their price point, the x70 is usually nothing more than a slightly scaled down x80 model but without the usual 'flagship' price bump that accompanies the x80 model. In fact, you usually can get two 70 video cards for only about 20% more than one x80 card. However, the main claim to fame of x70 cards is their performance is usually good enough that you don't have to SLI and instead only need one of them to get extremely good gaming results. This too separates the 70s from the 60s as the 60s really only start to shine in SLI configurations.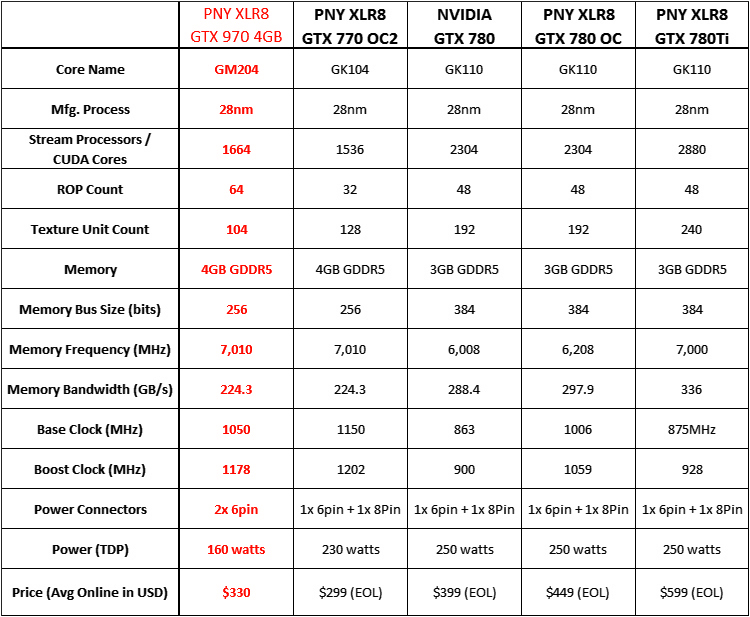 The all-new 970 appears to be upholding this tradition of standout value with aplomb; however unlike past generations this 970 series does not have a reference card that NVIDIA expects their board partners to use. Instead NVIDIA is allowing their board partners free reign right from the get go. This certainly will lead to interesting designs a lot earlier than usual and the latest to enter the fray with their own take on what a 970 should look and act like is PNY.
Just as with most non-overclocked 'stock' NVIDIA 970 videos cards the all new PNY XLR8 970 XGB comes with a price tag that is right at the edge of reasonable for most consumers budgets. Specifically this new card has an MSRP of $330, and while this is much more than what the upcoming 960 series will probably retail for, its Maxwell core boasts some very impressive specifications compared to the 770 it replaces – the 8 series name is reserved for mobile platform cards only.
However sheer performance is not the only claim to fame this PNY model has to offer. As with the 750 'sneak peak' NVIDIA gave us, this new 9 series is all about performance per watt and with a TDP of only 160Watts (a full 70 watts less than a PNY 770) these new cards have power efficiency like no enthusiast card before it could hope to match. This amazing efficiency when combined with performance that promises to be just as good to slightly better than the last generations 780 series should prove to be very potent. All this is pretty much par for the course for 970 video cards and what PNY is counting on to help this 970 standout from the competition is their warranty. Once again PNY has graced their XX priced card with a lifetime warranty and that truly is impressive.
From the consumers point of view the only hitch with this card is the fact that it uses a blower style heatsink. Historically speaking blower fans are louder and less capable than down-draft models. This begs the question on whether this PNY 970 is as good a value as it appears on first blush.
Click here for the original source.